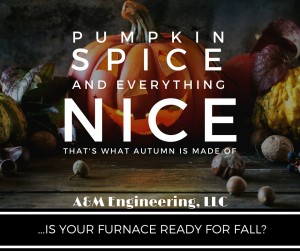 It is that time of year again, and the temperatures are falling. The sky is impossibly blue, the leaves are turning shades of red, orange, yellow, and brown and the days and evenings are getting chillier every day. If you have not already started your furnace, you will need to soon and when you do, do you know if it will be functioning at top capacity?
It is important to have your furnace checked routinely (this typically means that it needs maintenance every year). Not only does this help you avoid costly repairs down the road, but it helps to keep your heating equipment running as efficiently as possible maintaining the air quality in your home, and also saving your money on your utility bills!
So what, exactly, is a furnace maintenance appointment?
When you schedule your annual furnace maintenance, your equipment will be checked for safety? including checking for gas leaks, inspecting all safety switches, and monitoring for carbon monoxide. Your burners and sensors will be cleaned, your heat exchanger, blower, and flue pipe inspected, and your furnace will be started and checked for proper operation. With advance notice, your air filter and humidifier pads can be replaced (simply mention your model so that appropriate parts can be supplied), and your humidifier? if you have one will be inspected to make sure it is working properly.
Not only will regular furnace maintenance keep your equipment working properly for longer, but it can help to improve the quality of air in your home, it can identify small issues before they become big problems, and it can help you to enjoy the beautiful season in warmth and comfort.